Here it is!! I'm giving my secrets away! When there's a pie THIS good, it's hard to keep the recipe quiet :O) Yes...you can have the BEST of BOTH worlds...and obviously Hannah Montana knows that, too! ;o)
Pumpkin-Pecan Pie:
3 eggs, slighty beaten
1 150z can pumpkin puree
3/4 cup sugar
1/2 cup dark corn syrup
1 teaspoon vanilla
3/4 teaspoon ground cinnamon
In a medium bowl, whisk together above ingredients.
1 cup pecans
1 unbaked 9 inch pastry shell
Bake at 350 for 50-55 minutes, or until knife inserted in middle comes out clean.
I like to make my pie crusts from scratch, just because I LOVE pie crust and I think it's much better homemade :o)
Roll out your dough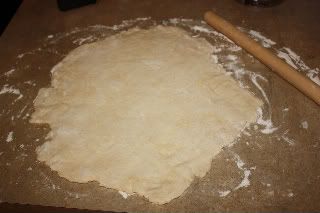 Put your dough in a pie plate and trim off excess from sides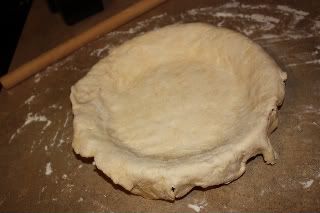 Make it pretty and crimp the edges :O)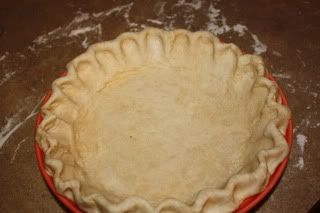 Pour in the pie mixture and decorate with pecans! I leave the decorating up to Caleb...he has too much fun!!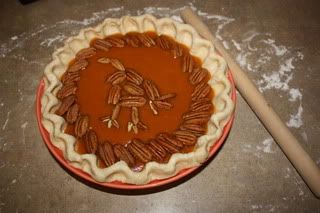 **Optional pecan topping**
I stumbled across this topping by accident, and I must say, it's my favorite!! I now use this pecan topping for my pie :o)
1/2 cup brown sugar
1/3 cup flour
1/3 cup melted butter
1 cup chopped pecans
Mix above ingredients together and crumble over the pie mixture. I've noticed with this topping, there tends to be a longer baking time...about 10 minutes more.
I hope you all enjoy this pie as much as my family!!