I cannot believe that my
baby boy
is already 1 year old! Time goes by way too fast with kiddos around! Cruz celebrated his 1st birthday,
D
r.
S
e
u
s
s
style :O)
Everything about it was precious...from the kid, to the cake, to the decorations! I have
NEVER
seen a kid destroy a birthday as much as he did!
Mmmmm...that was yummy :O) Can I please have more?!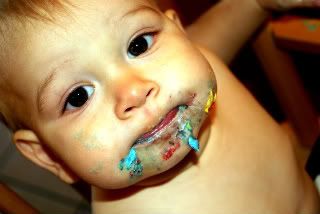 Cruz had prior practice unwrapping presents the week before...thanks to his big brother!! Now, Cruz is a pro :O)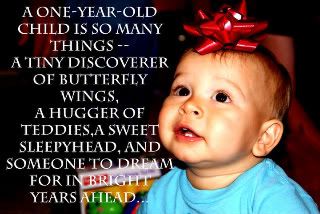 Cruz's Nana, the art teacher, made him this wonderful Dr. Seuss desk! She painted everything and she did an outstanding job!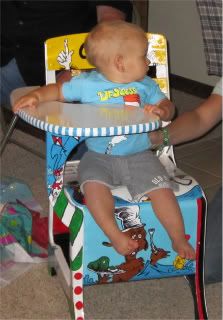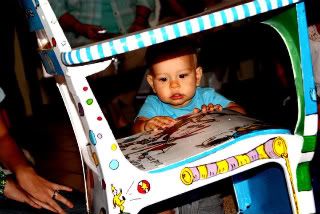 He loves to crawl through it!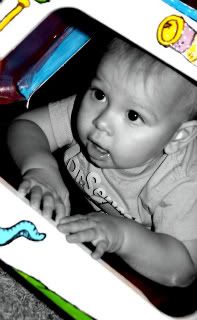 HAPPY HAPPY BIRTHDAY, BABY BOY! DADDY, MOMMY, AND CORBAN LOVE YOU TO PIECES! YOU COMPLETE OUR LIVES :o) THERE'S NEVER A SECOND IN THE DAY THAT GOES BY WITHOUT A SMILE ON YOUR SWEET FACE!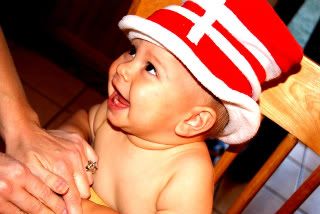 Some of your FAVORITES:
1.) Big Brother, Corban!
2.) Eating!
3.) Playing with/tearing up brother's toys!
4.) Eating
5.) Tickles on your back :O) You get that from mommy! We both love our backs and arms tickled:O)
6.) Eating!
7.) Making a charge for the hallway when you notice the baby gate isn't up!
8.) And, of course, mommy kisses ;o)
Your MILESTONES:
1.) "Cruzing"...not walking yet...I'm totally fine with that! Take your time, please;O)
2.) 4 teeth
3.) Gasp! 24.3 lbs & 32 inches?!?!!!!
4.) You can say:
*mama
*dada
*bubba
*buh-bye
*nana
*uhhhhh-ooooooooo...that's your most favorite of all! You repeatedly drop things, just so you can say uhhhh-oooooooo :O)
Your NICKNAMES:
(or what mommy calls you all the time!)
1.) Sweet face
2.) Preciousness
3.) Tiny Hiney
4.) Lil love bug
5.) Honey bunny
And yes, I will still call you all of these when you're full grown and married :O)
Your STATS:
Birth date: September 30, 2009
Weight: 7 lbs 7oz
Length: 19.5 inches
Time: 11:37 am(thanks to your rapid descent, mommy got to eat a cheeseburger shortly after! That will always be our little joke!)
Why did mommy & daddy decide to name you 'Cruz'?? Well...it was a lengthy process coming up with your name, little man! At first, mommy wanted 'Chett' because it had a nice ring to it when combined with your last name. But, big brother couldn't pronounce it quite right...! Therefore, 2 months before you were born, we decided on Cruz or Coby. We liked them both...we really did! It wasn't until after you were born, that we finally decided on 'Cruz.' You rapidly descended(causing mommy to dilate from 7cm to 10cm in 10 minutes), causing slight bruising on your sweet face. We thought you were
"Cruzin' for a bruisin!"
And that's how you got your name :O)
WE LOVE YOU CRUZ! HAPPY 1ST BIRTHDAY!
**a special thanks to Tabitha Steward who made his lovely Dr. Seuss cake, and to Ashaley Crawford who generously took these wonderful pics!